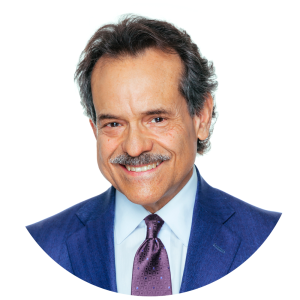 Eduardo "Eddie" Rodriguez
Executive Director, Board Secretary
As CREEED's Executive Director, Eduardo "Eddie" Rodriguez draws upon his decades of experience as a businessman, attorney, and parent in the El Paso region to develop and grow initiatives that better prepare all children to excel in their studies and careers.
Eddie helped establish CREEED in 2014 and served as the organization's board secretary and interim executive director prior to his formal appointment as Executive Director in 2018.
At CREEED, he has developed and implemented strategies that help increase educational attainment in the region, such as bringing high-quality school options for families, funding innovative district initiatives, and supporting teachers in their professional development and accreditation process.
A licensed attorney for more than 30 years, Eddie founded Strategic Communications Consulting Group, a legal consulting and policy practice drawing upon his legal, regulatory, and public policy experiences in economic development, regulation, public policy, and governance matters for a variety of clients in a variety of settings.
Eddie was previously the executive vice president and a member of the board of directors of Hunt Building Corporation, a privately-held company engaged in construction and real estate development. Earlier, Eddie spent 20 years in the electric utility industry at El Paso Electric Company, where he served in various senior-level executive positions, including general counsel, senior vice president for customer and corporate services, executive vice president, and chief operating officer.
Eddie's senior management experiences have included responsibility for strategic planning, corporate governance, regulatory compliance, general business operations, public relations, and marketing. He sits on the board of directors of the Tulsa-based natural gas energy and pipeline company ONEOK. He is the lead independent director of One Gas, Inc., a Tulsa-based regulated natural gas distribution company with operations in Oklahoma, Kansas, and Texas.
Eddie strongly believes in giving back to his community. He has led, organized, and participated in dozens of philanthropic initiatives focused on economic and workforce development, environmental policy, and education issues impacting the Borderplex region. In addition to his role at CREEED, Eddie currently sits on the board of Project ARRIBA, and he is a member of the Borderplex Alliance and Community en Accion.
The most important role that Eddie has held, and the one that inspires his efforts with CREEED, is that of a parent. He is a father to a son and two daughters, who graduated from traditional public and private schools in El Paso. He is committed to helping other parents become involved in their children's education and ensuring every child receives the high-quality education they need to succeed in college and the 21st Century workforce.
Eddie received an undergraduate degree in political science from Texas Tech University and a law degree from St. Mary's University School of Law.
Nadia Tellez is a former school district and campus administrator with over 20 years of experience in public education. As the Choose to Excel Director, Nadia deploys her understanding of curriculum and instruction and her leadership skills to help continue and further our work identifying, leveraging, and implementing education initiatives that systematically improve outcomes for all students and their families.
Nadia began her career in education as a classroom teacher at Clint ISD, where she later spearheaded many initiatives aligned with CREEED's work and mission. Nadia has held several roles throughout her time in public education, including campus instructional coach, English Language Arts instructional coordinator, new teacher mentor, and campus administrator.
In 2017, after seeing the need for a more targeted approach in supporting new teachers to the profession, Nadia co-created a research-based, multi-year New Teacher Academy. The program yielded high-performing educators and was the first of its kind in the region. In its first four years, the New Teacher Academy grew retention of new teachers in her school district from 67% to 92%. She has been invited to share the success of this structure at national conferences, including the Learning Forward Conference in 2018 and the New Teacher Center Symposium in 2020.
As a product of El Paso public schools, Nadia deeply believes that all students deserve an exceptional education regardless of what school they attend or what zip code they reside in. To her, this means that teachers have quality resources at the ready. In 2019, she served as a team leader on the Instructional Materials Quality Evaluation, a TEA pilot project that independently reviewed instructional materials for quality. Nadia was asked to speak on behalf of the project to the State Board of Education. Her work on this pilot led to TEA's Texas Resource Review, which is now utilized by districts across the state to help teachers and administrators make more informed decisions about their adopted instructional materials.
As the Choose to Excel Director, Nadia deploys her understanding of curriculum and instruction and her leadership skills to help continue and further our work identifying, leveraging, and implementing education initiatives that systematically improve outcomes for all students and their families.
Nadia holds a B.A. in English and American Literature and an M.Ed in Curriculum and Instruction, with an emphasis on Early Childhood Education from the University of Texas at El Paso.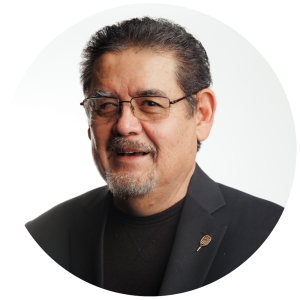 Manuel "Manny" Soto, Jr. brings more than 40 years of experience as a teacher, administrator, and education advocate to his role as Director of Data for CREEED.
At CREEED, Manny's work is informed by his hands-on experiences using various metrics to improve all students' educational outcomes and academic performance.
Manny received his Master's in Education from the University of Texas at El Paso (UTEP) in 1975. As an educator, Manny worked at Ysleta Independent School District (YISD) to deliver quality instruction and wrap-around services to the region's migrant and low-income students. He served as an educator for 15 years before becoming Assistant Superintendent for YISD and then Associate Superintendent for the Divisions of Instruction, Support Services, and Learning Standards and Assessment Support.
As Chief Instructional Officer (CIO) for YISD, Manny was responsible for the accountability and accreditation ratings of 58 campuses. He began as CIO in 1993 with seven "Low Performing" campuses and no "Recognized" or "Exemplary" schools under the Texas Education Agency ratings. By 2000, his leadership and instructional program reforms resulted in 11 Exemplary, 33 Recognized, and 7 Acceptable schools within YISD.
Manny also served as YISD's chief advocate in the effort to establish an equitable school finance system in Texas. In 1990, he led the newly established Texas School Alliance (TSA), an association of the largest school districts in Texas which provides advocacy for legislative initiatives to address and support the needs of large, diverse school systems. TSA now represents 30 districts across Texas, serving 2.2 million students (40 percent of the state total).
In 2002, Manny joined Oklahoma City Public Schools as their Chief Operating Officer and Executive Director for student performance. He provided district-wide leadership overseeing a $500-million construction and $50-million technology program to build 12 new schools and renovate 60 existing campuses to bring state-of-the-art facilities and technology to every child in Oklahoma City Public Schools. He also helped preserve teachers' jobs when the city's education budget was slashed.
Manny returned to southwest Texas in 2007. Since then, he served the City of Socorro, Texas, both as City Manager (2008-2011) and as a municipal consultant. Manny served as United Way campaign coordinator for Ysleta for ten years and was selected as Countywide Volunteer of the Year in 1983. Manny also served on the Hispanic Leadership Institute (HLI) Board of Directors and was elected Chairman in 1995. He is a founding member of Community En Accion (CEA).
Parent & Community Engagement Coordinator
As CREEED's Parent and Community Engagement Coordinator, Mariana Gutierrez Vega is responsible for identifying and inspiring community members, civic leaders, and, most of all, parents who care about El Paso's education ecosystem. She is also responsible for developing and providing them with the tools they need to become powerful advocates for great schools.
Mariana was born in Ciudad Juarez, and at the age of 11, she and her family moved to El Paso. Mariana holds a bachelor's degree in Communications with a concentration in Public Relations and a minor in Political Science from The University of Texas at San Antonio. She also has a Master's degree in Public Administration with a concentration in Public Policy and Management from the University of Texas at El Paso.
Mariana has been committed to the El Paso community through various roles. Before joining CREEED, Mariana served as a Partnership Specialist with the U.S. Census Bureau. She established partnerships with federal, state, and local governments, community leaders, non-profits, and faith-based organizations to develop strategies to ensure a complete count in El Paso County. She also supported operations in Arizona, New Mexico, and West Texas.
Before working with the U.S. Census Bureau, Mariana worked at the United Way of El Paso County as their Fundraising Assistant and later as the Community Engagement Coordinator. In her roles, Mariana managed and led United Way Donor Networks and oversaw the implementation of the Community Impact Agenda.
Mariana's volunteer efforts have ranged from assisting with fundraising efforts for Teleton USA, volunteering at church by distributing food and donations, and volunteering with different non-profit organizations in El Paso and Ciudad Juarez. She believes that if everyone works together towards a common goal, they can achieve great things.
In her new role at CREEED, Mariana is excited to empower and engage parents by giving them a voice in the decisions affecting all El Paso students and providing them with the tools to become advocates for their children.
Chairman
McDonald's Owner and Operator
Vice­ Chair
Executive Chairman of the Board
Hunt Companies Inc.
Chief Executive Officer
Bravo Chevrolet Cadillac
Secretary & Executive Director
President
Moreno Cardenas, Inc.
President
CEA Engineering Group, Inc.
President/CEO
High Desert Capital
Founding Partner/Director
Investment Management, Strategic Wealth Advisors
President
DA Defense Logistics HQ
Retired Superintendent
San Elizario Independent School District
President
MNK Architects, Inc.​
Owner
Dan Olivas Real Estate and Associates
Capital Partner
Linebarger Goggan Blair & Sampson, LLP Attorneys at Law